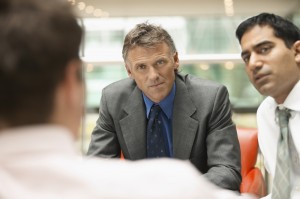 A business coach is a professional trained to work with you on the most important aspects of your life and business. A coach offers you a new perspective because of the different of points of view the professional relationship offers.
A business coach helps you develop the skills, acquire the resources, identify the business opportunities and overcome the challenges that come with working in or operating and growing a successful enterprise. With e-mail and the Internet, telephones and "virtual" meetings, a business coach can be located anywhere in the world to provide you with these critical success factors in support of your personal and business aspirations.
Professional coaches are trained to listen and notice patterns of success and limitations, to customize their approach to the individual client's needs, and to elicit solutions and strategies from the client. Because the client always knows more about themselves, how they are motivated, how they sabotage themselves, and their dreams for their future, coaches do not need to be an expert in the client's field. Coaching is one of the fastest, most effective ways help people get from where they are to where they want to be.
Business Coaching is not therapy.
Where therapy uses a pathology model to bring understanding and awareness of the past to a client, coaching assumes the client's wellness, and provides the support and strategy to create a desirable future. Coaching is action-based. A business coach is a person you turn to for non-biased insight on business decisions. In addition, the best business coaches are individuals with whom you can check in with to stay focused to clarify your goals and then achieve them. They are friends you can trust for advice on virtually any issue from personal challenges to family matters. Their role is to help you succeed at whatever business or personal milestone you set for yourself.
Coaches believe that the client is naturally creative and resourceful and that the coach's job is to provide support, encouragement, to enhance the skills, resources and creativity that the client already has. While the coach provides feedback and an objective perspective, the client is responsible for taking the steps to produce the results he or she desires. A coach is not a therapist. Coaches do not work with psychologically disturbed people. Coaches work with people from all walks of life helping them to bring out their very best.
For more information about hiring a Personal / Professional Coach Phone:
USA: +919 869 7299
UAE: +971 50 365 3756