Score with a Coach
Reprint from Gulf News 06/09/2007 | By Maey El Shoush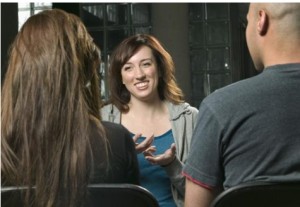 Unlike a therapist, a life coach approaches the problems faced by a client more like a friend would – but, with more objectivity. By asking them powerful questions and raising their levels of confidence, life coaches are often able to help their clients see opportunity where they often failed to see one.
"The right kind of attitude goes a long way in ensuring a happier and more successful life. And life coaches help clients do just that – by teaching them to be more positive."
If you are one of those who limits his capabilities by worrying about making a living instead of enjoying life and living in the moment, it's time you sought the help of a life coach to organize your thoughts and achieve your dreams.
"A life coach identifies the strengths of individuals, making them discover hidden aspects of their personalities. Once they believe in themselves, their thoughts, words, and actions become positive and bring about a big difference in their lives," says Dr Samir Mohammad, UAE-based coach and celebrity trainer.
Facilitating change
Some may feel this sounds larger than life, but in reality, it can be as simple as creating a specific surrounding to help individuals believe in themselves, he says.
Some seek the guidance of a life coach because their lives have either come to a standstill or have somehow lost direction, says Dave Crane, a Dubai-based life designer. "These [feelings] are predominant in career, life, purpose, money, health, friends and family, self-esteem, confidence, and romance."
Crane believes all these aspects are intertwined, and that true happiness can be achieved by successfully altering just one of the factors.
Using neuro-linguistic programming (NLP) Crane tracks and then anchors success into clients leaving them with the tools to look after themselves.
"It's like the old saying: 'you can give a man a fish and he will eat for a day, but if you teach him to fish, he will eat for a lifetime'," Crane says. The life designer also aims to map out future options and possibilities for his clients.
"I can take them back to reset old memories and forward to experience dreams coming true," he says. "Your mind can't tell the difference between what is real and what is vividly imagined, it responds equally to both, so this is very powerful."
Great expectations
Another Dubai-based life coach, German-born Silke Rehman, says though Dubai offers many career opportunities, some people do not have the time to sit back and think about what they want. "There are expectations from the family, society, culture and work; there are too many 'shoulds' in our mind rather than actual personal goals," she says. "As a life coach, I try to unlock a person's potential by asking them questions and allowing them to find the answer. I have seen many who have had those 'aha!' moments."
Mohammad holds out a similar opinion. "We spend our life analysing why we react in a certain way, why we chose Plan B over Plan A, or why our neighbour drives a Ferrari while we drive that mediocre car. The life coach transforms these negative thoughts into strengths, which then reflect in positive results."
Jerry Seavey, mind development expert, master NLP trainer and president of the international NLP certification training company MindBridge NLP & Coach Trainings, says life coaching is catching up in the UAE and the entire Middle East.
Courses on offer
"NLP, positive thinking, coaching and mind enhancement are in demand because of the rapid changes taking place throughout the world," says Seavey, considered one of the foremost developers in the field and one who brought his expertise to Dubai.
Endorsing the growing interest in NLP, the NLP International Professional Coach Certification, a 12-day course, was held at the Jumeirah Rotana Hotel in Dubai recently.
Seavey says there are two reasons why people want to obtain NLP certification: "One is to become a self-employed professional as a coach. It is a dream career and one of the fastest-growing professions in the world today.
"The second is to gain new skills, making you more valuable and successful in your current career. It also helps those who want to improve specific situations or make a difference in peoples' lives."
Friend and guide
"The relationship between client and coach is anchored on trust and confidentiality. The coach is there to push, cajole, support, be with and, most importantly, to listen," Rehman says.
"[The coach] is a partner devoted 100 percent to success [of the client]."
But, life coaching is not about preaching. Crane and the others say they practise all that they advise their clients to do.
"If I want anything, I have to get it myself. Revolutionaries don't ask for permission and at one point, our heroes also doubted their own abilities," Crane says.
His advice to people is to believe they are capable of brilliance and deserve to have the things they want out of life.
Mohammad's strategy is slightly different. "Before I can say problem, I say solution and it makes my day wonderful," he says.
And the collective advice from the experts? One of the worst things you can do is put your dreams on hold till you suddenly become older and say: "I wish".
Though it may seem as though a 'life coach' is only a more glamorous term for "therapist", Mohammad lays out the difference – a therapist, especially psychiatrists and clinical advisers, incorporates a medical approach and tries to cure a problem with medicine.
Coach, not therapist
"I have been in the medical field and I know the fear and mental block people can have when they visit a doctor.
That's where a life coach has the upper hand," he says. "We are normal human beings with qualities that will help you achieve what you want."
Crane puts the difference in perspective. "A therapist fixes the broken parts and mends you while a life coach assumes you are fully fit but want to be better and works on how to get you there," he says.
As a life designer, Crane says he can offer the best of both worlds by integrating NLP and hypnotherapy to dig into the subconscious mind and quickly deal with unresolved issues. Once they've been dealt with, they can be used to realise success.
Attitude and Objectivity
Rehman says she is often asked why one should see a coach when there are friends and family around to help in most cases.
Coaches are almost like friends and confidants, but Rehman is quick to point out that "friends and family lack the objectivity, which a coach can provide, and friends habitually offer quick advice rather than asking powerful questions".
The outlook, attitude and objectivity and skills that life coaches bring with them, makes them popular with clients. And it shows because interest in this field is growing rapidly.
Results: Positive outcomes
Those who have hired a life coach have experienced the following results:
Finding passion and excitement again
Realising potential
Getting along better with others
Achieving and exceeding personal goals
Greater self-confidence
Breaking bad habits
Contact: Help at hand
Some life coaching options available in the UAE:
Dr. Samir Mohammad, personality makeover coach, and celebrity trainer [email protected]
Dave Crane, life designer, and motivational speaker [email protected]
Silke Rehman, life coach [email protected]
Jerry Seavey, mind development expert and president of MindBridge Trainings, LLC – [email protected].
Find out how you can become a professional coach through NLP Coach /NLP Practitioner Certification training sessions in Dubai
UAE: +971 50 365 3756